SLO Brew Rocktoberfest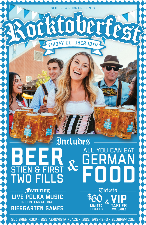 SLO Brew Rock
855 Aerovista Place, San Luis Obispo, CA
$60.00
Event Information
SLO Brew presents Rocktoberfest at SLO Brew Rock on Friday, October 13th. This will be a night of celebration filled with laughter, steins, German food, live polka music by Trio International and Biergarten games. Get your lederhosen & dirndl's ready this party is going to be a "Rocking Good Time"!
♦ General Admission: $60 ♦
- Includes all you can eat German food by Chef Thomas Fundaro
- Commemorative Stein & two stein fills (with more available for purchase)
- Open seating
★ ★ VIP Table of six: $450 ★ ★
- VIP Food and beverage service with dedicated beer maid.
- Includes all you can eat German food by Chef Thomas Fundaro
- Commemorative Stein & two stein fills (with more available for purchase)
- VIP German beer garden table close to the band
- Includes 6 tickets