Comedy Show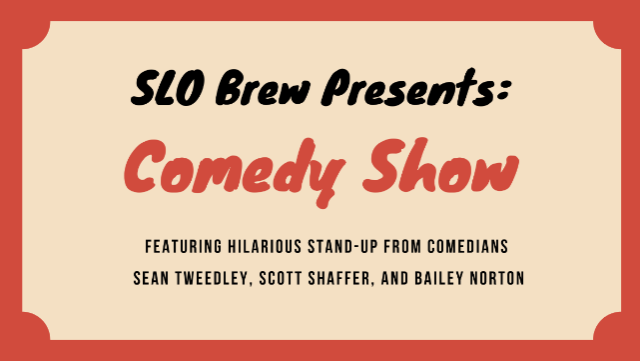 SLO Brew
736 Higuera St, San Luis Obispo, CA
$10.00
Event Information
Join us for a night of hilarious stand up at our Comedy Show on November 25th at SLO Brew!
Tickets available at slobrew.com and Boo Boo Records
Headliner: Sean Tweedley
Feature: Scott Shaffer
Opener: Bailey Norton
Doors 7 PM | Ages 18+
About Sean Tweedley:
Sean Tweedley headlines clubs and colleges across the US, Canada and the UK. In addition to his starring role on the CTV/Comedy Network series, THE WARM-UP SHOW, Sean was Head Writer and "on air" side kick for Canada's longest running late night talk show "Late Nights".
Sean has appeared in the "Montreal Comedy Festival", "The Boston Comedy Festival" "The Late Show with Craig Ferguson" and his own hour comedy special on CTV's "Comedy Now"
Now based in Los Angeles, Sean recently starred alongside Vivica Fox in the film SHARK CITY and co-starred with Harland Williams in the stand up/sketch comedy special "CHILD WILD".
Sean wrote and starred in Alf's return to TV with "Alf's Late Night Talkshow" on MTV/TV Land. He has also wrote and starred in over 100 web videos when Funnyordie.com tapped him for their new offshoot, Bluecollarordie.com.
Sean currently tours with Harland Williams and is a regular at The Improv, Ice House and Jon Lovitz comedy
clubs in LA.
About Scott Shaffer:
here's a reason Scott Shaffer is a booking favorite in every room of his hometown, Kansas City. Delivering a consistently dynamic performance of quick wit coupled with intelligent writing, Shaffer is an undeniable crowd favorite. Scott was awarded second place in the St. Louis Make Me Laugh Comedy Contest and won the Last Laffs Comedy Competition. In 2015 he performed at the Oddball Comedy Festival with the likes of Aziz Ansari and Amy Schumer.

About Bailey Norton: Bailey Norton is a comedian and writer living in Los Angeles by way of Springfield, Missouri. She can be seen doing stand up comedy all around the city at venues of all varieties; from Rotary Club meetings to The Comedy Store. She also hosts a monthly show at The Complex called Complex Comedy.