Comedy Bandidos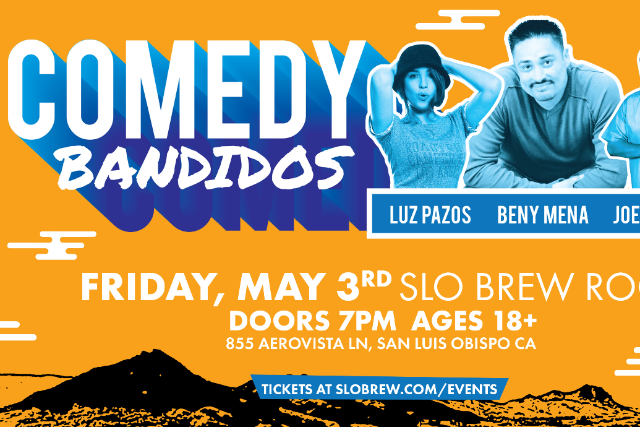 SLO Brew Rock
855 Aerovista Place, San Luis Obispo, CA
Event Information
Join us for
Comedy Bandidos​
on the eve of Cinco de Mayo weekend at the
SLO Brew Rock Event Center
on
Friday, May 3rd
. We've got a lineup of professional comedians coming in to serve up laughs alongside our good eats and quality brews.
Beny Mena
Beny made his stand-up comedy debut at the world famous Laugh Factory on April 10, 1999. He found his calling as an instant hit and has since been working clubs and colleges in Southern California. Pulling from real-life experiences, his humor stems from growing up on the streets of Los Angeles. Expect tales from interactions with neighborhood drunks, cops with grudges and judges with loud gavels.
Luz Pazos
Perpetually 29 years-old, this former beauty queen from Peru is smart…and can be a smart ass. With two degrees from Italy, she can afford to be. Luz Pazos has won several comedy contests in Los Angeles, has been on the Kroll show and has featured at the Comedy Store, Improv, Laugh Factory along with many other top Comedy Festivals across the nation. In addition to Luz being one of the hardest working comedians currently in the business, she also writes sketch. Watch out America, this mama is HOT…funny HOT!
Joseph Luna
Born in East Los Angeles, Joseph has always packed a great sense of humor. At the tender age of 31, he decided to take on stand-up comedy. Led by his tough upbringing, he was proud to embrace the stage name Joe El Cholo.
For a young comic Joe has been lucky and fortunate to have performed with big acts such as, Pablo Francisco, Chris Fonseca, and Frankie Quinones to name a few. He also has performed at some of the top comedy clubs in Los Angeles, such as The World Famous Ice House, Improv Comedy Clubs and The Laugh Factory. He is a real hard worker and produces his own comedy shows. You can find Joe El Cholo on YouTube and all over social media doing his own sketch comedy clips.