Barrelled: Craft Wine Market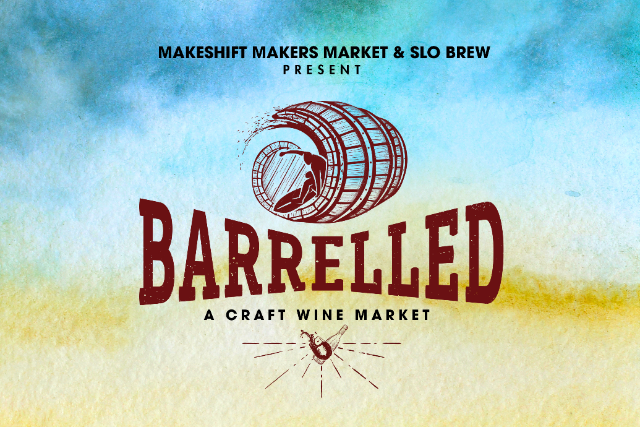 SLO Brew Rock
855 Aerovista Place, San Luis Obispo, CA
$0.00 - $20.00
Event Information
SLO Brew and Makeshift Makers Market are partnering to host live music, intimate craft wine tasting and a full afternoon of small business shopping during SLO Brew Rock's first annual Barrelled Craft Wine Market! On Sunday, July 21st from 12 PM - 5 PM folks of all ages are invited to peruse a wide selection of market vendors while enjoying performances from The Gipsy Allstars and The Solstice Sisters, FREE of charge. Expect a photo booth decked with all the fixings, a braid bar and an afternoon filled with interactive activities.
Barrelled tasting glasses are on sale for $20.00 to experience the wines of nearly two dozen local wineries. Ticket sales will help benefit the nonprofit Visit SLO CAL and their efforts towards fostering a vibrant and prosperous San Luis Obispo County.
All your favorite local wineries... one spectacular market.
Harmony Cellars (Harmony, CA)
Caliza Winery (Paso Robles, CA)
Field Recordings Winery (Paso Robles, CA)
Tooth & Nail Winery (Paso Robles, CA)
Presqu'ile Winery (Santa Maria, CA)
Talley Vineyards (Arroyo Grande, CA)
Stephen Ross Wine Cellars (San Luis Obispo, CA)
Kaleidos (Paso Robles, CA)
Laetitia Vineyard & Winery (Arroyo Grande, CA)
Tolosa (San Luis Obispo, CA)
Kelsey See Canyon Vineyards (San Luis Obispo, CA)
Porch Pounder (San Luis Obispo, CA)
Castoro Cellars Vineyards & Winery (Templeton, CA)
Timbre Winery (Arroyo Grande, CA)
Derby Wine Estates (Paso Robles, CA)
Grey Wolf Cellars (Paso Robles, CA)
Kynsi Winery (San Luis Obispo, CA)