Aussie Disaster Relief Fund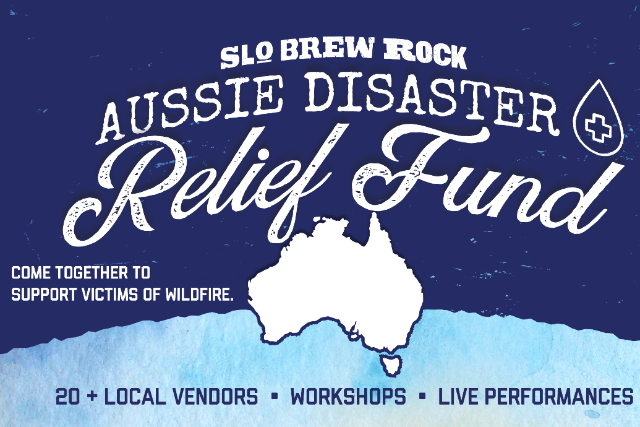 SLO Brew Rock
855 Aerovista Place, San Luis Obispo, CA
Event Information
Our hearts are with Australia.
Local artists and businesses have come together to host a Festival for Aussie Fire Relief at SLO Brew Rock this Saturday & Sunday from 12:00- 9:00 PM.
Enjoy handcrafted goods, live music and over $6,500 worth of raffle prizes contributed by partners countywide! Makeshift Makers Market vendors are setting up shop from 12-5 PM. All proceeds from specialty prints crafted by artist Amy McKay and raffle support will join SLO Brew's donation of 25% all food and beverage sales to the American Red Cross Disaster Recovery & Relief Fund.
SLO Brew's downtown location The Carrisa is set to host an After Party to benefit brushfire survivors.
LIVE PERFORMANCES
Saturday, January 18th
12:30 PM - Dante Marsh
2:00 PM - 3:00 PM - Aussie Relief Raffle
3:00 PM - Josh, Nick & Kevin (Proxima Parada)
6:00 PM - Free Benefit Concert by AC/DC tribute High Voltage.
10:00 PM - 12:00 AM - After Party DJ Set at The Carrisa
Sunday, January 19th
12:30 PM - Noach Tangeras Band
2:00 PM - 3:00 PM - Aussie Relief Raffle
3:00 PM - Bear Market Riot
6:00 PM - Pacific Range Free Benefit Concert
RAFFLE ITEMS
Ernie Ball Custom Guitar - Bet High on this beauty. Everyone's favorite music man will match up to $3,000 of all donations.
A night at The Hotel SLO with $75 voucher
Local photography services
Spanish & Aussie wine baskets and tastings from vineyards across the Coast
One month membership to The Bar Method
Dinner for two at NOVO, The Carrisa and Farmhouse Corner Market
Two free haircuts and gift basket at Kindred Salon
Bethany Giles "Tidying Up" professional organizing and interior design work
A Bonsa Golden Ticket - 2 pairs of concert tickets to SLO Brew Rock, every month for a year.
The Backcountry Basket - film festival tickets with All Good, Whalebird Kombucha & The Mountain Air keepsakes.
Two-night Pismo Beach staycation with Airbnb Superhost (comes with Aussie BBQ and wine basket)