Próxima Parada & Rainbow Girls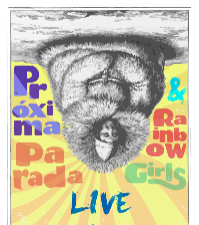 SLO Brew
736 Higuera St, San Luis Obispo, CA
$10.00
Event Information
Próxima Parada comes to the SLO Brew stage for what will be an unforgettable summer concert. The Rainbow Girls will be opening the night, and this high energy trio will have the dance floor on fire!
10pm | 21+
Próxima Parada bio:
http://www.proximaparadamusic.com
https://www.facebook.com/proximaparadaband
Próxima Parada blends soulful melody and hard-hitting rhythm, taking lessons from classic artists like Ray Charles, contemporaries like Lake Street Dive and Vulfpeck, and the music of South Africa. Their performances span from unadorned acoustic to floor-stomping dance parties. Listeners have called their music "sexy as hell," so either bring a loved one or keep your eyes open. Próxima Parada plays matchmaker.
Rainbow Girls bio:
https://www.rainbowgirlsmusic.com/
https://www.facebook.com/RainbowGirlsStomp/
Though Rainbow Girls have spent the last 5 years playing as a raucous rock n' roll band, they have recently begun to play more frequently as an acoustic trio. This new amalgamation of the band highlights their rich harmonies and soulful, bluesy sound, as well as their raw and ageless songwriting. They are currently recording an album of this material on their property in Bodega, CA (set to be released in Summer 2017), but in the meantime they will have their "Brown Recluse Reading Club" demo available at all of their shows.