SLO Brew 30th Anniversary Festival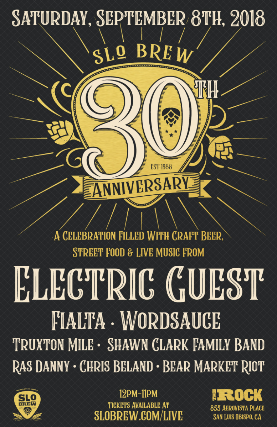 SLO Brew Rock
855 Aerovista Place, San Luis Obispo, CA
$100.00
Event Information
"Cheers To 30 Years"
Come celebrate our 30th Year Anniversary on Saturday, September 8th with an all day celebration filled with craft beer, street food and live music from 12pm - 11pm at the SLO Brew Rock.
Mainstage:
9:30pm - 11:00pm - Electric Guest
8:00pm - 9:00pm - Fialta
6:30pm - 7:30pm - Wordsauce
Beer Garden Stage:
5:15pm - 6:30pm - Truxton Mile
3:45pm - 5:00pm - Ras Danny
2:15pm - 3:30pm - Shawn Clark Family Band
1:00pm - 2:00pm - Chris Beland
11:45am - 1:00pm - Bear Market Riot
Ticketing
$30 Pre-Sale / $40 Regular - General Admission
Access to the event and concert.
$100 - VIP Admission
VIP will-call / entry line
Access to the event and concert
2 drink tickets
2 food tickets
30th Anniversary Shirt
30th Anniversary Poster
Free cover for after-party at downtown Pub.