Rock the Vine: Craft Wine Market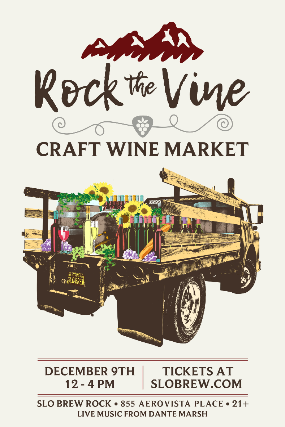 SLO Brew Rock
855 Aerovista Place, San Luis Obispo, CA
$30.00
Event Information
SLO​ ​Brew​ ​announces​ ​boutique​ ​winery​ ​farmers​ ​market:​ ​Rock​ ​the​ ​Vine.

The third annual 'Rock the Vine' event will be held Sunday, December 9th from 12pm-4pm as boutique wineries and smaller central coast cider producers are given a place to allow the public to taste their products and advocate for their wine. This event will be held at the SLO Brew Rock with their event center and beer garden featuring live music from Dante Marsh, food, tasting and games. Tickets to the event include your wine tastings and a complimentary take-home Rock the Vine wine glass. $30 per person for the day and $35 at the door.

Rock the Vine is a start-up wine event produced by Cal Poly students, in conjunction with SLO Brew Rock. The idea is to provide a makeshift "tasting room" in a farmers' market style event. This project is to promote and provide exposure to the locally owned wineries without a large scale tasting room of their own.

The SLO Brew Rock is at 855 Aerovista Place, off of Broad Street by the SLO airport. This is a 21+ event.
Featuring:

Ultima Tulie
Bodega de Edgar ~ Work and Play Ciders
LaZarre Wines
Volatus
Croma Vera
Stolo Family Vineyards
Tiny City Cider
Jean Marie Cider
Saint K
Alta Colina
Dilecta Wines
On Your Left Wines
Monochrome
Maidenstone
Dusty Nabor Wines
Luna Hart Wines
Halcyon Wines
Rococo Wines
Ground Truth Wines
Kings Carey Wines
Hubba Wines
The Wine Boss