New Year's Eve Disco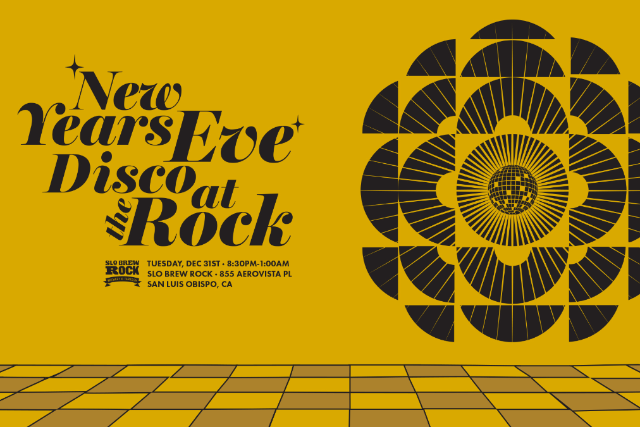 SLO Brew Rock
855 Aerovista Place, San Luis Obispo, CA
$35.00 - $800.00
Event Information
We're kicking off the New Year with a seriously epic Disco at SLO Brew Rock. Join us for a proper introduction to 2020 featuring
Studio 54
and the very special guest Elijah Blue Molina, better known by his stage name
Scoop DeVille.
This thumping DJ and rapper has produced records for the likes of Snoop Dogg, Kendrick Lamar, 50 Cent, Busta Rhymes and Fat Joe. Now he's serving up beats to carry you past midnight at the
SLO Brew Rock Event Center.
We're shutting down the entire campus, from our stage to the taproom to our brand new Rod & Hammer's SLO Stills small-batch distillery for an exclusive holiday experience. Get ready for a full spread of food to feed the soul, a rad photo booth to capture the night's memories, sparkle stations, surprises from SLOQueerdos and a clock-strikes-12:00 AM balloon drop.
Tickets are $35 in advance and rise day of. Cover your bases and buy in advance!
Includes:
Chef Tom's New Years Spread
Disco Sparkle Station
Rockin' Photo Booth
Clock Strikes 12 AM Balloon Drop
Freakin' Good Times
Table Reservations & Bottle Service - $800.00
We're saving three 10 person tables for reservations and bottles service (
2 SLO Brew Rock Taproom, 1 Rod & Hammer's SLO Stills Tasting Room
). Lockdown 10 tickets to our New Year's Eve Disco and 4 bottles of chilled champagne to partner with all our Disco's epic fixings for an exclusive holiday experience.
Ages 21+ | Tickets Available Online and Boo Boo Records