Lee Scratch Perry + Subatomic Sound System at the SLO Brew Rock Event Center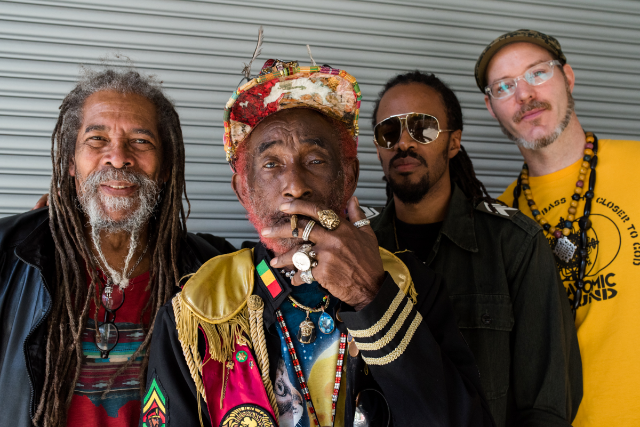 SLO Brew Rock
855 Aerovista Place, San Luis Obispo, CA
$25.00
Event Information
Grammy winning dub & reggae pioneer Lee Scratch Perry (official) returns to the SLO stage with the Subatomic Sound System on Saturday, October 20th at the new SLO Brew Rock Event Center.
Get tickets at slobrew.com/live and Boo Boo Records
45th Anniversary Performance of "Blackboard Jungle Dub".
The first dub album in history, live for the first time.
About: Grammy winning dub & reggae pioneer Lee "Scratch" Perry celebrating the 45th anniversary of his landmark album "Blackboard Jungle Dub", the world's first dub album. Scratch, now 82 years young, will embark on a tour across North America performing his 1973 studio masterpiece live in its entirety for the first time, aided by the technology of NYC's Subatomic Sound System, his hybrid band of new school electronics and veteran Jamaican musicians from the Black Ark era recordings.
They will also perform music from their album "Super Ape Returns To Conquer" ( http://bit.ly/SS033s ) which topped both reggae and electronic charts in 2018, plus singles like "Black Ark Vampires" (http://bit.ly/BAVss ) and classics from Perry's work with the likes of Bob Marley, Max Romeo, and many more. Perry's Blackboard Jungle album includes dub remixes of hit songs he co-wrote with Bob Marley, "Kaya" & "Keep On Movin", as well as other big tunes from The Wailers and Junior Byles. Kaya turned out to be Marley's most successful album of his career and celebrated its own anniversary with a massive festival earlier this year.
Facebook : @PerryScratch @SubatomicSoundSystem
Instagram : @lee_scratch_perry @subatomic
Twitter: @ScratchLee @SubatomicSound
Web : http://www.subatomicsound.com
Doors: 7 PM
Ages 18+