New Times Music Awards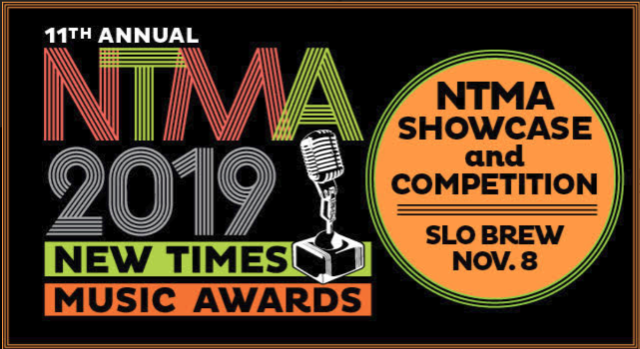 SLO Brew Rock
855 Aerovista Place, San Luis Obispo, CA
$10.00 - $15.00
Event Information
The New Times Music Awards is returning for the 11th year!

Musicians and attendees alike, it's time to prepare yourselves for an epic celebration of the Central Coast's local music scene. This year, our 11th Annual New Times Music Awards is kicking into high gear at SLO Brew Rock for what promises to be a night of camaraderie and first-rate entertainment. Come to watch five of our best local acts square-off in a competition for Best Live Performance at 6:00 p.m., Friday, November 8th.

Singers, songwriters, musicians, performers, and bands, it's once again your time to shine! Entry period July 25-August 19th 2019 at 5:00 p.m.
THE RULES:
Enter up to 13 songs and 1 album!

Six Genres: Country/Folk/Americana, Rock/Alternative, Hip Hop, R&B/Blues, Open and Youth. We also have a songwriter category where you can enter up to 3 songs!

Win amazing prizes including a bronze "Newtie", the official custom NTMA Trophy, a chance to be included on the official 2019 NTMA CD, AND a chance to perform the 2019 NTMA showcase at SLO Brew Rock! Each winner will battle it out for the Best Live Performance Award that evening judged by a live panel of local music industry judges.
Entry form and submissions will be available from July 25-August 19th, submissions must be turned in by 5:00 p.m. PST on Monday, August 19th!

A Readers Choice Award will be voted on October 3 through October 18 at www.newtimesslo.com
Finalists in the five genre categories will play a live-judged show at SLO Brew Rock Friday, November 8, 2019, at SLO Brew Rock Event Center showcase with one act crowned for Best Live Performance. Winners of the songwriting and best album categories, as well as runners-up in the genre categories and Readers Choice, will receive their awards that same evening.
For more information, visit www.newtimesslo.com or email our Marketing and Events Coordinator Rachelle Ramirez at rramirez@newtimesslo.com

GA Tickets: $15
Student Tickets: $10 ( must show proof of ID)
All Active Military & Veterans are welcome to enjoy free of cost, we thank you for your service.